Uzbekistan's Sanjar Fayziev advances to quarterfinals at the Kazan Kremlin Cup 2019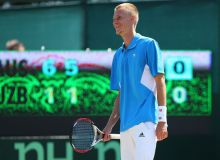 Uzbekistan's Sanjar Fayziev advanced to the quarterfinals in men's doubles at the Kazan Kremlin Cup 2019 in Russia.
Sanjar Fayziev and Markos Kalovelonis struggled with Alexandar Lazarov of Belarus and Saida'lo Saidkarimov from Uzbekistan in the 1st round on Tuesday. Uzbek & Russian duo managed to win both sets and earned a quarterfinal spot.
Fayziev and Kalovelonis will face the winner of the match between Konstantin Kravchuk / Alexander Pavlioutchenkov and Richard Muzaev / Denis Yevseyev at the Kazan Tennis Academy on Thursday.