Uzbekistan's Shakhobidin Zoirov to square off against Indian Sandeep Singh Bhatti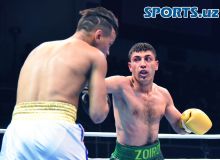 Uzbekistan's Shakhobidin Zoirov will square off in his third bout after he knocked out both previous opponents in Men's Lightweight.
2016 Summer Olympics gold medallist will contest with Indian Sandeep Singh Bhatti in Jeddah, Saudi Arabia on Friday.
The 26-year-old will contest with Indian boxer in a scheduled 4-round fight at the King Abdullah Sports City.