Uzbekistan begin the MNC Futsal Championship 2019 with a 9-0 win over KL City FC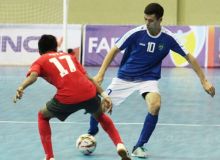 Uzbekistan national futsal team kicked off MNC Futsal Championship 2019 International Futsal Tournament with a victory.
The White Wolves struggled with Malaysian Futsal League club Kuala Lumpur City FC in their opening game the GOR UNY in Indonesia.
Under the coaching of Bakhodir Ahmedov, Uzbekistan shocked Malaysian side with a stunning with a 9-0 win on Friday.
KL City FC 9-0 Uzbekistan
Goals: Husniddin Nishonov (2), Akbar Usmonov (11), Ikhtiyor Ropiev (17), Sunnatila Juraev (18), Dilmurod Jumaev (23), Dilshod Rahmatov (25), Davron Choriev (32), Ikhtiyor Ropiev (34), Abdulla Solihov (35)
Found mistake? Select it and send us (Ctrl + Enter)