Uzbekistan begin their 2019 CAFA U-19 Championship campaign with a 2-0 defeat to Iran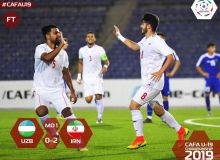 Uzbekistan received a 2-0 defeat Islamic Republic of Iran, who signalled their intentions with an impressive win over the White Wolves, while Turkmenistan and Afghanistan shared the points as the 2019 CAFA U-19 Championship began in Tajikistan on Friday.
Iran began their campaign in stunning fashion, accounting for 2016 champions Uzbekistan to win 2-0 at Dushanbe Central Stadium.
Head coach Sirous Pourmousavi revealed his side's goal of leaving Tajikistan as Central Asian champions in Thursday's pre-tournament press conference, and his young squad live up to early expectations with two second-half goals.
Mohammed Hossein Zavvari broke the deadlock for Iran in the 50th minute, before 17-year-old midfielder Mahdi Hashemnezhad Rahimabadi doubled their lead in the 75th minute.
The double blow was one from which Uzbekistan were unable to recover, making Saturday's clash with Afghanistan one of added importance, while Iran have the weekend off before returning to action against Turkmenistan on Monday.