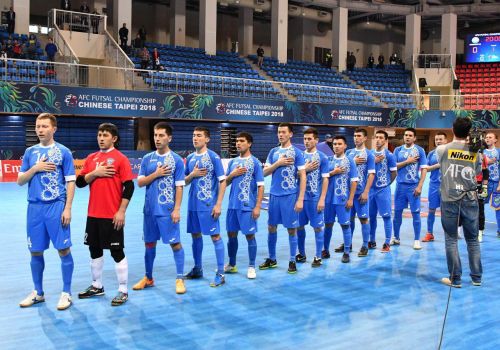 Uzbekistan claim bronze medals at AFC Futsal Championship
Uzbekistan secured third place in the AFC Futsal Championship 2018, defeating Iraq 2-1 in a penalty shoot-out after the exciting play-off ended 4-4 at the Xinzhuang Gymnasium on Sunday.
In the opening minutes, both sides played cautiously and only looked to apply pressure when necessary, and in one such instance in the third minute, Dilshod Rakhmatov intercepted Zaid Ali's pass, before Davron Choriev beat goalkeeper Yahya Abdulnoor for Uzbekistan to take an early lead.
Iraq then began to pile on the pressure and had more control over the ball, but with Uzbek custodian Rustam Umarov guiding his backline, the West Asians had few opportunities on target.
However in the 15th minute, Ali rectified his earlier mistake by dispossessing Rakhmatov in front of the box, and fired off a firm shot to the bottom right to equalise for Iraq.
Haitham Abbas' charges returned in the second half more passionate and 20 seconds in, Waleed Khalid found the back of the net with a superb volley from a corner set-play, before Salim Faisal doubled their advantage two minutes later when his shot bounced in between the framework and into the goal.
Uzbekistan, who finished third in 2005, 2007 and 2014 and were runners-up two years ago, were hardly demoralised despite the two-goal deficit, and in the 26th minute skipper Artur Yunusov neatly converted from a corner.
Riding on that momentum, the Central Asians continued to press on, and just two minutes later, Ilhomjon Hamroev levelled the scores with a simple tap in from close range, courtesy of Choriev's pass.
The Iraqis never-say-die attitude paid off in the 35th minute when they were awarded a free-kick 10 metres from the post and Hassan Dakheel let loose a sizzling strike to regain the lead.
With two minutes left on the clock, a goal down and pride on the line, Uzbekistan introduced their flying goalkeeper, and were rewarded with Yunusov earning his second a minute from time.
Moments later, Konstantin Sviridov could have almost ended the proceedings, when Uzbekistan were awarded a spot-kick from the second penalty mark after Iraq accrued their sixth foul, but his shot flew high, sending the game into a penalty shoot-out.
Umarov proved to be Uzbekistan's hero as he fended off shots from Dakheel and Zainal Abdeen to finish with a 2-1 win.
Source: AFC
Join to SPORTS.uz channel on Telegram