Uzbekistan climb one place in the latest FIFA Women's Rankings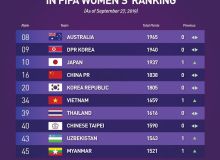 Uzbekistan were rewarded for a recent tournament victory, climbing one place to 43rd in the latest FIFA Women's Rankings, after winning this month's Nadezdha Cup.
Australia remain Asia's top-ranked women's national team at eighth. China PR and Korea Republic retained their positions - at 16th and 20th respectively - to round out Asia's top five, while Vietnam climbed one place to 34th after winning the AFF Women's Championship in August.
Kyrgyz Republic's participation in Nadezdha Cup responsible for their return to the rankings, with the Central Asian side claiming position 120 on the global list after a period of inactivity on the international scene.
Guam were the biggest Asian risers in the latest rankings update, climbing two places to 80th, while Nepal returned to the top 100 with a single-position rise from 101st.