Uzbekistan down Nepal to earn a 2-0 win at the Cup of Hope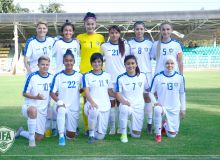 Uzbekistan national women's football team earned their second victory at the Cup of Hope International Football Tournament in Korakul, Kyrgyzstan.
After a fabulous 12-0 win over Tajikistan, Uzbek side contested with Nepal at the Central Stadium on Monday.
Goals from Lyudmila Karachik and Rushaniya Safina down Nepal side to claim a 2-0 victory in the second match of the competition.
Uzbekistan 2-0 Nepal
Goals: Lyudmila Karachik (34), Rushaniya Safina (50)
Found mistake? Select it and send us (Ctrl + Enter)