Uzbekistan play a goalless draw with Iraq a friendly match in Jordan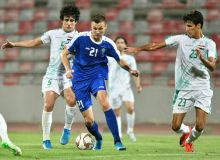 Uzbekistan national team played a friendly match against Iraq at the King Abdullah II Stadium in Amman, Jordan on Monday.
After the shocking 2-0 defeat to Palestine in in their opening FIFA World Cup Qatar 2022 and AFC Asian Cup China 2023 Asian Qualifiers tie, the White Wolves ended the game with a goalless draw with Iraq.
Iraq 0-0 Uzbekistan
Uzbekistan: 12. Sanjar Quvvatov, 4. Farruh Sayfiev, 15. Egor Krimets, 20. Islom Tukhtakhujaev, 6. Davronbek Khoshimov, 18. Azizjon Ganiev, 7. Odiljon Khamrobekov, 19. Kuvondiq Ruziev, 23. Sanjar Shoahmedov, 10. Jaloliddin Masharipov, 14. Eldor Shomurodov.
Found mistake? Select it and send us (Ctrl + Enter)