Uzbekistan start Dubai Cup U23 with a 3-3 with Iraq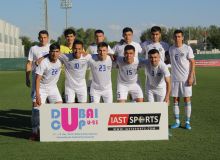 Uzbekistan U23 national team kicked off their Dubai Cup-U23 campaign with a 3-3 draw with Iraq U23 on Wednesday.
Omer Abdulrakhmon put the Iraq side in front just 4 minutes after the kick-off at the UAE FA Stadium. However, goals from Doston Ibragimov and Nurillo Tukhtasinov gave the lead for the White Wolves in the break.
Khusayn Jabbor Abbud levelled the scoring before Doston Ibragimov made his second in the 64th minute of the game. But Muhammad Qosim Nassif put the sides in level term 5 minutes to complete.
Dubai Cup-U23 International Football Tournament
Uzbekistan U23 3-3 Iraq U23
Goals: Doston Ibragimov (21, 64), Nurillo Tukhtasinov (28) - Omer Abdulrakhmon (4), Khusayn Jabbor Abbud (62), Muhammad Qosim Nassif (85)