Uzbekistan Super League suspension extended until August 15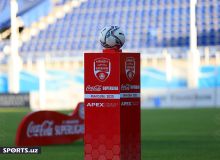 Uzbekistan Super League faced with another wait to return, after the competition's week-long suspension was extended to August 15 due to COVID-19 on Monday.
Initially a week-long delay lasting from July 21 to 28, the most recent hiatus was first extended to August 3, with matches scheduled to be played in centralised venues in Tashkent, but that plan was also scuppered, leading to another, longer delay.
A number of Uzbekistan Super League players have tested positive COVID-19 tests in recent weeks. Defending champions FC Pakhtakor lead the league 22 points from nine matches, one point ahead of AGMK.
Found mistake? Select it and send us (Ctrl + Enter)