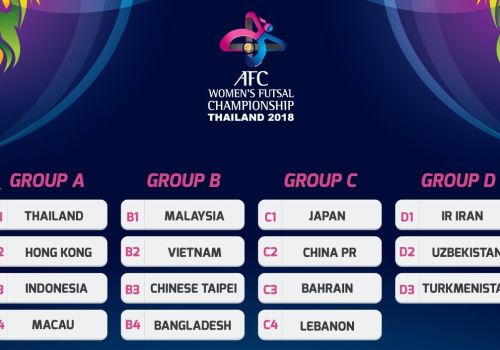 Uzbekistan to face Iran and Turkmenistan in 2018 AFC Women's Futsal Championship group stage
Asia's best 15 teams have identified their AFC Women's Futsal Championship Thailand 2018 opponents after the tournament's official draw at the AFC House, Kuala Lumpur on Monday.
Uzbekistan start their campaign in Group D as they face Islamic Republic of Iran and Turkmenistan in the group stage in Thailand.
The winners and runners-up from each group will advance to the quarter-finals.
Group A:
A1 - Thailand
A2 - Hong Kong
A3 - Indonesia
A4 - Macau
Group B:
B1 - Malaysia
B2 - Vietnam
B3 - Chinese Taipei
B4 - Bangladesh
Group C:
C1 - Japan
C2 - China PR
C3 - Bahrain
C4 - Lebanon
Group D:
D1 - Islamic Republic of Iran
D2 - Uzbekistan
D3 - Turkmenistan
Watch SPORTS.uz on YouTube