Uzbekistan to face Iraq in a friendly match against Iraq in Jordan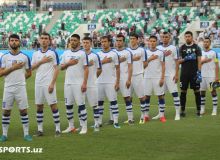 Uzbekistan national team will play a friendly match as there is a rest day for the White Wolves in the Matchday Two of 2022 World Cup Asian Qualifiers.
Uzbekistan will compete with Iraq in a friendly match in Amman, Jordan on 9 September 2019.
Uzbek side will start the Round Two of Qualification with Palestinian clash at the Faisal Al-Husseini International Stadium on 5 September 2019.