Uzbekistan women's U-23 team start final training sessions ahead of AFC U-23 Women's Ch'ship Qualifiers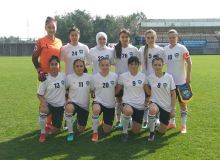 Uzbekistan women's national under-23s football team started the final training sessions in Chigatay training camp on Tuesday, reports Uzbekistan Football Association on Friday.
Uzbek side will compete with Vietnam, Jordan and Hong Kong in the Women's Olympic Football Tournament 2020 Asian Qualifiers Round 2 in Tashkent.
Head coach Bahrom Norsafarov has announced a 25-woman squad for the training camp ahead of the Qualification Round 2.
Uzbekistan Women's U-23 Team
Goalkeepers:
Jonimkulova Maftuna - Sevinch
Boymatova Gulandon - Metallurg
Tilolova Laylo - Sevinch
Defenders:
Husnitdinova Soliha - Bunyodkor
Bektemirova Dilnoza - Bunyodkor
Bobokhudjaeva Feruza - Sevinch
Shoyimova Maftuna - Sevinch
Zarbieva Tanzilya - Sevinch
Kochkorova Ogiloy - Bunyodkor
Nazarova Zumratjon - Bunyodkor
Midfielders:
Galimov Saida - Bunyodkor
Nozimova Dildora - Metallurg
Zoirova Umida - Bunyodkor
Turdiboeva Feruza - Metallurg
Bahromova Fazilat - Shurtan
Safina Rushaniya - Metallurg
Burhonova Malika - Sevinch
Panjieva Maftuna - Sevinch
Zaripova Kamila - AGMK
Strikers:
Dadajonova Nilufar - Andijanka
Kudratova Nilufar - Sevinch
Habibullaeva Diyora - Metallurg
Lyudmila Karachik - Bunyodkor