Uzbekistan's Abdurakhmonov and Boltaniyozova gain silver medals in Bulgaria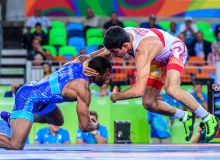 Uzbekistan's judokas are taking part in the Dan Kolov International Wrestling Championship in Ruse, Bulgaria.
Two-time Asian champion Bekzod Abdurakhmonov beat his all rivals and advanced to the final. However, Uzbek wrestler lost the final to American Jordan Barrouz and claimed a silver medal.
It was the third bout for Bekzod Abdurakhmonov, as he competed with Barrouz two times in men's 74kg as he stunned American judoka with a 11-1 win in 2016 Rio Olympics before he received a 6-5 defeat at the Judo World Cup in Las Vegas one year later.
Uzbekistan's Bakhtigul Boltaniyozova faced American Tamira Mensa in the women's 68kg final, but she was also defeated by American wrestler and awarded a silver medal.