Uzbekistan's athletes earn 3 medals at the Asian Triathlon Cup and Central Asia Triaghtlon Championships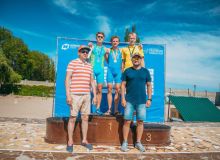 Internatioanal Triathlon Union and Asian Triathlon Confederation organised Asian Triathlon Cup and Central Asian Triathlon Championships in Chulpon-Ota city in Kyrgyzstan.
More than 300 athletes from 14 countries including Uzbekistan, Kazakhstan, Kyrgyzstan, Mongolia, Unraine and Japan competed for medals on the coast of Issyk-Kul lake.
Under the coaching of Viktor Zarodov, Uzbekistan's junior athletes earned 2 gold and 1 silver medals in sprint event (0.75 km swimming, 20 km cycling and 5 km running) in Central Asian Triathlon Championships.
Found mistake? Select it and send us (Ctrl + Enter)