Uzbekistan's athletes earn five medals in the 3rd World Taekwondo President's Cup Asian Region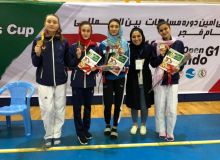 Uzbekistan's athletes are taking part in 3rd World Taekwondo President's Cup Asian Region in Kish, Iran.
In men's 74kg, Nikita Rofalovich was awarded a bronze medal in the opening day of the tournament on Thursday.
In women's 73kg, Svetlana Osipova defeated all her rivals and earned a gold medal as her compatriot Charos Kayumova lost the final finishing the competition with a silver medal in women's 53kg. Uzbekistan's Madina Mannopova (49kg) and Feruza Sodikova (62kg) claimed bronze medals.
Athletes from the US, South Korea, Jordan, Armenia, Uzbekistan, Ukraine, Pakistan, Afghanistan, Tunisia, China, Russia, Azerbaijan, Syria, Sweden, Iraq, Oman, Kazakhstan, Georgia, Lebanon, Poland, and India are competing for medals in the competition where first to third athletes will add 20, 12, and 7.2 points to their Olympics ranking.