Uzbekistan's athletes leave for the World Taekwondo Championships Manchester 2019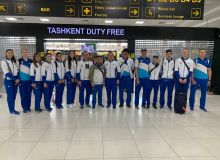 Uzbekistan national taekwondo team left for the 2019 World Taekwondo Championships will be held at the Manchester Arena, in Manchester, Great Britain from 15 to 19 May 2019.
Nearly 1,000 athletes are expected to attend the competition from over 150 countries and is the first time the UK has ever held the event.
Manchester was also awarded the 2018 WTF World Taekwondo Grand-Prix Series, while the Copper Box Arena in London, which was used for Olympic competitions in 2012, will be a venue for the 2017 WTF World Taekwondo Grand Prix Series.
Uzbekistan national taekwondo team
Men:
-54 kg: Valentin Khegay
-58 kg: Suhrob Bobobekov
-74 kg: Nikita Rafalovich
-80 kg: Shuhrat Salaev
-87 kg: Maksim Rafalovich
+87 kg: Dmitriy Shokin
Women:
-49 kg: Madinabonu Mannopova
-53 kg: Charos Kayumova
-57 kg: Zariya Kosimova
-62 kg: Feruza Sodiqova
-67 kg: Nigora Tursunkulova
+73 kg: Svetlana Osipova
Found mistake? Select it and send us (Ctrl + Enter)