Uzbekistan's Dilnoza Rakhmatova and Nilufar Zokirova earn silver medals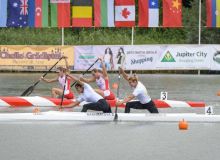 Uzbekistan's athletes are participating successfully in the 2019 International Canoe Federation Junior and Under-23 Canoe Sprint World Championships in Puteshti, Romania.
Dilnoza Rakhmatovа and Nilufar Zokirova from Uzbekistan earned their second medals in 500 m event in 2.06.044.
In yesterday's sessions, they claimed gold medals in C2 200 m event in 43.340 followed by Poland and Belarusian athletes.