Uzbekistan's friendly match against Tajikistan rescheduled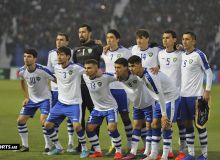 Tajikistan friendly has been moved to another date for a proposal from Tajikistan Football Federation.
Uzbekistan were scheduled to meet Tajikistan in a friendly international in Tashkent on September 4, before facing against Islamic Republic of Iran three days later.
The clash has been rescheduled to September 3 as Vadim Abramov's Uzbekistan side host neighbours Tajikistan in their first home international since November 2019.
Uzbekistan have arranged these home friendlies against Tajikistan and Islamic Republic of Iran in September, which will be followed by an Asian Qualifiers clash with Yemen in October, and further ties against Singapore and Saudi Arabia the following month.
Found mistake? Select it and send us (Ctrl + Enter)