Uzbekistan's Oksana Chusovitina picks a silver medal at the Baku FIG World Cup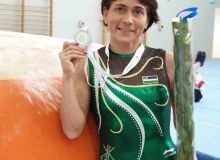 The FIG Artistic Gymnastics World Cup is taking place at the National Gymnastics Arena in Baku on March 14-17.
Uzbekistan's Oksana Chusovitina finished second (14.450 average) in Vault exercises at the Baku World Cup as US gymnast Jade Carey won vaulting Saturday in Baku.
Nearly 170 gymnasts from 41 countries are contesting for medals at the tournament, while the World Cup is a qualifying event for Tokyo-2020 Summer Olympic Games according to the new rules.