Uzbekistan's players reach the quarterfinals at the Shymkent Open in Kazakhstan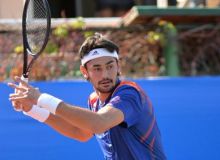 Uzbekistan's tennis players advanced to the quarterfinals in men's doubles at the Shymkent Open in Kazakhstan.
Uzbek player Shonigmatjon Shofayziyev joined George Tsivadze from Georgia to down Kazakhstan's Timur Maulenov and Dostanbek Tashbulatov in two straight sets and reached quarterfinals.
Uzbekistan's Adil Karimov and Sergey Fomin also earned their places in the quarterfinals as they beat Kazakh duo Danil Ozernoy and Dmitry Bezborodov at the National Tennis Center.