Uzbekistan's seven boxers compete for gold medals at the ASBC Youth Boxing Championships finals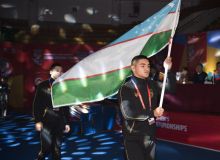 Uzbekistan's seven boxers advanced to the finals at the ASBC Asian Confederation Youth Boxing Championships in Ulaanbaatar, Mongolia.
Uzbek boxer Sukhrobjon Kayimov secured his place in the finals after Uzbekistan's middleweight (75kg) No.1 eliminated Kyrgyzstan's young Islombek Turgunov. The 18-year-old Uzbek Youth National Champion is finalist and will be facing for the gold with Kazakhstan's Azamat Bektas.
Shokhjakhon Abdullaev has done a small surprise in the semi-finals of the light heavyweight (81kg). The tough Uzbek will be boxing for the title of the light heavyweight (81kg) with China's lone male finalist Halimulati Rehemandu.
Amirshokh Samadov of Uzbekistan demonstrated his power against India's Satender Singh ahead of the final bout against a tough rival, Kazakhstan's Sagyndyk Togambay.
Uzbekistan's ASBC Asian Junior Champion Javlonbek Yuldashev controlled his fight against Mongolia's Jandos Askhar and earned a spot in the final. The ASBC Asian Junior Champion fight for the title of the division against Kazakhstan's Darkhan Duisebay.
Uzbekistan's Khurshidbek Rasuljonov dominated Thailand's Pricha Malunap in all of the rounds ahead of the final bout against Kazakhstan's Biybars Zheksen at the bantamweight (56kg).
2017 ASBC Asian Junior Boxing Championships gold medallist Nurislom Ismoilov also will be boxing for the crown as he will meet Kyrgyzstan's Nuradin Rustambek Uulu in the final of the welterweight (69kg).
In women's middleweight (75kg), Uzbekistan Navbakhor Khamidova beat Korean Jiho Kim with a unanimous decision win to advance to the finals. She will have another tough rival in the final against Indian Sanamacha Chanu Thokchom, who was stronger than Buridu of China in the semis.