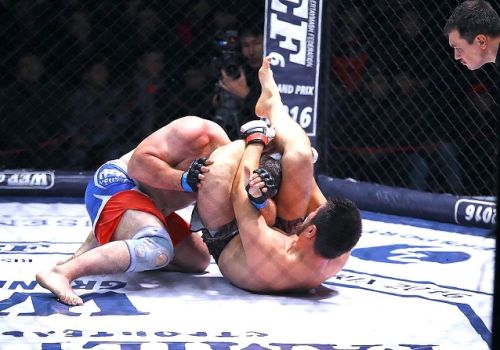 Uzbekistan's seven MMA fighters to take part in Falco Fighting Championship
Bishkek hosts Falco Fighting Championship Mixed Martial Arts (MMA) tournament including 16 fights on March 11.
Uzbekistan's seven fighters will take place in this competition. In 63 kg weight category, Otabek Khamzaliyev of Uzbekistan will oppose Bakhtiyar Toichubayev, while his compatriot Ibrahim Bakhramov will face Kyrgyz Temirlan Sultonaliev.
The main fight of the evening will be held between Kyrgyzstan's Zhanibek Beyshebek Kazakhstan Anatoly Zolotykh in 66 kg weight category.
63 kg: Otabek Khamzaliyev (Uzbekistan) - Bakhtiyar Toichubayev
66 kg: Ibrahim Bakhramov (Uzbekistan) - Temirlan Sultonaliev (Kyrgyzstan)
66 kg: Umidjon Rakhimov (Uzbekistan) - Kanat Keldibekov (Kyrgyzstan)
71 kg: Umid Sagdulaev (Uzbekistan) - Rasul Mansurov (Kyrgyzstan)
77 kg: Zhahangir Yorkulov (Uzbekistan) - Belek Abdizhaparov (Kyrgyzstan)
77 kg: Azam Ermamatov (Uzbekistan) - Chingiz Chegirov (Kyrgyzstan)
84 kg: Shahzod Holmatov (Uzbekistan) - Baktiyar Umetaliev (Kyrgyzstan)
Join to SPORTS.uz channel on Telegram