Uzbekistan's Zarrukh Adashev beats American Tevin Dyce by TKO in Bellator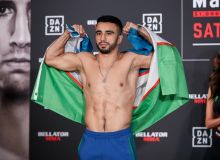 Uzbekistan's Zarrukh Adashev stayed undefeated in Bellator.
GLORY kickboxer Zarrukh Adashev (3-1) moves to 3-0 in Bellator, bombarding Jackson Wink's Tevin Dyce as his foe fades to force a second-round stoppage.
In the second round, Adashev gets up and he swings away at Dyce as he stands up, Adashev nails Dyce with more unanswered strikes and the referee jumps in.