Vadim Abramov: We must win to get our confidence back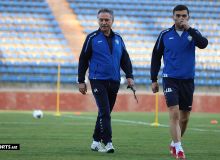 Vadim Abramov returns to the role of Uzbekistan head coach confident his players can raise their game after a disastrous start to their Asian Qualifiers campaign last month, with a 2-0 defeat at the hands of Palestine costing former coach Hector Cuper his job.
The Argentinian parted company with the Uzbekistan Football Association days after the surprise reversal in Al Ram, prompting the re-hiring of the man who steered the country to the semi-finals of the 2011 AFC Asian Cup in Qatar.
That remains the best-ever result for Uzbekistan's senior men's team in the Continental competition and Abramov believes his players' commitment to their cause will be enough to lift their spirits ahead of the upcoming meetings with Yemen and Singapore in Group D of qualifying for the FIFA World Cup Qatar 2022 and AFC Asian Cup China 2023.
"All the players feel the responsibility in front of the nation and the government, which is focused on the development of football," Abramov told the-AFC.com. "Our people love football and the players themselves realise everything.
"So there is no need to lift their morale, I think they themselves will figure out how to get out of the situation which they are in."
"Of course, everything changes, so I have changed as a coach and most of the players from (my previous period in charge) aren't in the national team anymore. As far as I know only Odil Akhmedov is still playing in the national team from that squad.
"We hope that we will handle the situation and the upcoming two matches will show us to what extent our players and football in general have changed."
Abramov's previous stint ended seven years ago during Uzbekistan's attempt to qualify for the 2014 FIFA World Cup Finals in Brazil and since then he has coached Lokomotiv Tashkent, Neftchi Fergana and, most recently, Bunydokor, where he has worked extensively with many of the country's up-and-coming talents.
And while he admits that he still needs to fully assess the squad after his lengthy absence from the national team, he will try to find a balance between youth and experience as the country pushes for a place at their first-ever FIFA World Cup Finals.
"I should start to work in order to respond, because I was out of the team during the last seven years," he said. "I have worked in Lokomotiv and Bunyodkor during this period, I had a long pause in my career due to some particular reasons, so it is difficult for me to judge. When I start to work productively I will be able to say what we need to change.
"Currently, a group of U-23 players have been capped for the national team. Uzbekistan's U23 team players mostly come from two local teams: Bunyodkor - where I've been working – and Nasaf.
"We have really talented young players but we should understand that the level of the national team and U23 team isn't the same. Therefore they should get more experience to play in the national team and that is the aspect which we are working on mainly."
The opening loss means Uzbekistan trail group leaders Singapore by four points and are three behind the Palestinians, while group favourites Saudi Arabia have a solitary point after they were held to draw by Yemen. Those results have left Abramov determined to pick up wins in both of their upcoming matches to put their challenge for Qatar 2022 back on track.
"Clearly, it is very important to win because of the current standings in our group and in order to get our confidence back," he said. "We must win these matches to save the chance to fight for the qualification to the World Cup."
The-AFC.com