Video. Murojdon Akhmadaliev takes out Wilner Soto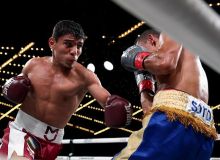 2016 Olympic Bronze medalist Murojdon Akhmadaliev resulted in his settling for a showcase fight with Colombia's Wilner Soto on Friday's show at Madison Square Garden's Hulu Theater in New York City.
Akhmadaliev chose to have fun with the moment, toying with his overmatched late replacement before in the fourth round of their super bantamweight heat.
Soto (22-7, 12KOs) was spared a knockdown call in round three when a body shot was ruled low. Akhamadaliev finished off the job in round four, the prodigious southpaw unloading with power shots until the bout was brought to a merciful halt.