What did Ruzikul Berdiyev say before the match against Pakhtakor?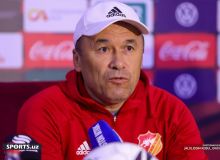 Opinions of the opponents' mentor about the game
On December 4, the final of the Uzbekistan Cup will be held in Samarkand. A pre-match press conference was organized today. The second part of the press conference was attended by the Dragons coach Ruzikul Berdiyev, football players Husain Norchaev and Oybek Bozorov.
Ruzikul Berdiev: We started the season with Pakhtakor. Now let's finish. This is not accidental. The level of the two teams is the same. The team is in good physical shape. We will try our best for the trophy.
There are a lot of young players in both teams. Tomorrow they will be given the opportunity. Of course, their experience is not great. But we hope that young people will prove themselves.
Nasaf has played many games in the season. At the beginning of the season, the team had no serious goals. In addition, the team had losses. Disadvantages too. That is, not only when you concede a goal, we give the opponent a chance. This is when there are few strong players in the squad.
We talked to the management about keeping the players. In this regard, we have agreed that the club leaders will retain the team leaders. They have plans. We also want to add strong players to our squad before next season.
We have a good mental preparation. The excess of mental strength can also be excessive. The team is ready for tomorrow's game.
Of course, it was important to take a place in the match with Lokomotiv. But for some reason this did not happen. Tomorrow my players will give everything. My students worked hard.
Oybek Bozorov: everything is fine in the team. We were preparing for an important game.
Falling in my game? I do not think so. From the outside it may seem that this is so. But I wouldn't say that.
We have more motivation in this game than Pakhtakor. Because the team became the champion. We also want to finish the season with a prize.
Husseyn Norchaev: we have prepared well for the final. We will come back in a good mood, having won a trophy for the fans.
Матнда хатолик топсангиз, ўша хатони белгилаб, бизга жўнатинг (Ctrl + Enter)