What did the head coach of Al-Muharraq say at the press conference about Nasaf and Uzbek football?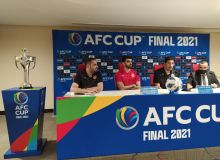 Before an important game.
A press conference was held before the final match of the AFC Cup 2021. It was attended by the mentor of the Al-Muharraq team Isa Sadoun al Hamdani and one of the leaders of the team Hamza al Juban.
Isa Sadoun al Hamdani: - We were seriously preparing for the final game. We have won this competition before. We have experience in this regard. Now there is a serious match ahead against the Nasaf club. But we hope for a positive result.
Muharrak has not played against Uzbek clubs yet. This upcoming meeting will be a new experience for us. But we know that the Uzbek championship is strong, the clubs are also quite high-level. In addition, Uzbek football players began to play in Europe. Recently I watched an Uzbek football player play in the Italian championship. In general, it is clear that the match against the Uzbek club will not be easy.
We tried to study the opponent well. We know that there are much more experienced players in the team. In addition, we also know that the season for one of Nasaf's leading defenders has already ended due to injury.
Hamza al Juban: - Our team is 100 percent ready for the final game. The teams of Uzbekistan always show a meaningful game, we know this very well. But our goal is to win. To do this, we use all our skills.
Матнда хатолик топсангиз, ўша хатони белгилаб, бизга жўнатинг (Ctrl + Enter)