What was the level of Uzbek referees working at the boxing match in Tashkent?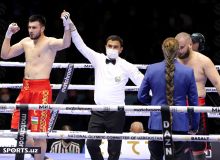 The supervisor of the fight night shared his thoughts.
As you know, a professional boxing evening was held yesterday at Humo Arena in Tashkent. Organized by Matchroom and World of Boxing promotions and featured on DAZN platform, the historic fight was a spectacular affair. Of course, from the point of view of the beautiful fights and the health of the boxers, the judges and referees have a great responsibility.
It is safe to say that the judging panel, led by Nabijon Ismonov from Uzbekistan, also played a significant role in the success of yesterday's eight fights. In particular, the fact that Nabijon Ismonov supervised and the fights for the title in the first four fights, as well as acting as the chief supervisor of the fight in general, means that he has great confidence in the Uzbek judges and referees.
We contacted this specialist and were interested in their views on yesterday's activities and the attitude of foreign organizers of the fight evening to the service of Uzbek referees.
- It is true that before the fight, there were some misunderstandings. They wanted to hand over the arbitration of the whole fight to the Russian Boxing Federation. However, we said that Uzbekistan also has good specialists and is able to host any fight night. In this regard, the First Deputy Chairman of the Boxing Federation of Uzbekistan Saken Jetiboevich Pulatov expressed great confidence in us and strongly supported us.
Before the fights, there were many people who were skeptical of our activities. In addition, we invited experts from the Kyrgyz and Kazakh communities, and together we were able to measure weight, medical examinations, dressing room, how to wear gloves, control over the corner during the fight, and be more than just around the corner. both organizers and Frank Smith, an aide to Matchroom spokesman Eddie Hearn, praised the visit. In addition, in the battle of Bakhodir Jalolov, Islam Rakhmonov acted as a referee and showed a high level. However, it was a serious mistake for the Russian referee, who worked in those major battles, to immediately put the capa in his mouth and continue the fight.
I want to say that the Uzbek referees were able to show a good level. I even consider the championship titles in the main fights to be a high assessment of our activity because they wanted us to hand them over. Frank Smith, WBA, IBF representatives, well-known manager Vadim Kornilov also thanked us and said that we can work together in the future.
In general, I think that the judges and specialists of the Professional Boxing Federation of Uzbekistan have proved that they can hold high-level fights. We are glad that our faces are bright in front of the people who trust and support us. If so, we would like to thank them!
Матнда хатолик топсангиз, ўша хатони белгилаб, бизга жўнатинг (Ctrl + Enter)