White Wolves play in white jerseys as Palestinians in red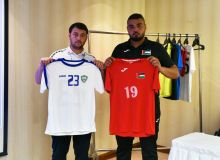 Uzbekistan will wear white jerseys in their opening FIFA World Cup Qatar 2022 and AFC Asian Cup China 2023 Asian Qualifiers fixture against Palestine on Thursday.
Palestinian side will play in red jerseys as they will try to make their home ground advantage count when they open against Uzbekistan at the West Bank's Faisal Al Husseini Stadium.
Uzbekistan pooled in Group D alongside Saudi Arabia, Palestine, Yemen and Singapore at the Round Two draw of the Asian Qualifiers Round Two.
PALESTINE vs UZBEKISTAN
Venue: Faisal Al Husseini Stadium, West Bank
Kick-off: 1700 hours (UTC +3)
Found mistake? Select it and send us (Ctrl + Enter)