Will Kudratillo Abdukakhorov fight on September 26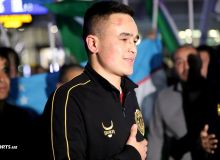 The fight for Interim IBF world welterweight championship belt between #1 contender Kudratillo Abdukakhorov (17-0, 9 KOs) and #3 Sergey Lipinets (16-1, 12KOs) has been announced to be on September 26 in Connecticut ( USA ). We contacted to Abdukakhorov to clarify this.
- Honestly, I have no information about it. I also read the news that it would be on September 26th. But I have not been told yet. If so, I'm very happy. It would be good to clarify this issue as soon as possible. Currently, I am in Andijan. Work related to the flight is being resolved. That is, we are waiting for a visa to the United States. Once this issue is resolved positively, we will leave.
Found mistake? Select it and send us (Ctrl + Enter)