World records at the Tashkent-2021 World Cup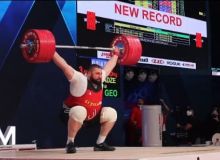 The World Weightlifting Championship held in our capital was remembered for new records in a number of weight categories.
In total, 13 world records were set during the competition in different age categories, 4 of them in the women's part of the tournament. Joy Eze from Nigeria set a junior world record in the weight category up to 71 kg in the clean and jerk and the sum of two exercises. Thus, now 130 kg in the clean and jerk, 230 kg in the two-man event will be recorded as a world record in the category of teenage girls.
The young Bulgarian athlete Carlos Nassar set 4 records among men. The 17-year-old athlete set a new record by lifting 166 kg in the snatch and 208 kg in the clean and jerk was officially recognized as a new world record among both teenagers and youth and adults. Also, with two consecutive successful attempts in the clean and jerk, he twice set a junior record in two exercises (371 and 374 kg).
Also, the most fantastic records were recorded in the category over 109 kg. In this weight, one of the legends of our time, Georgian Lasha Talakhadze, updated his records in all programs, once again showing who is the strongest weightlifter in the world in this weight category. Lasha's results were 225 kg in the snatch, 267 kg in the clean and jerk and 492 kg in the sum of the two exercises. It is worth noting that during the competition in this weight, 18-year-old Iranian Alirizo Yusufi finished his performance with a result of 237 kg in the clean and jerk, broke the youth record.
Tashkent-2021 was rich in such bright and unforgettable performances. There is no doubt that this championship of the planet will remain in the memory of everyone who watched and participated in prestigious starts, one of the most exciting tournaments on a global scale.
Матнда хатолик топсангиз, ўша хатони белгилаб, бизга жўнатинг (Ctrl + Enter)