Zvezda Chekhov beat HC Humo to earn a 3-1 lead in Supreme Hockey League quarterfinal series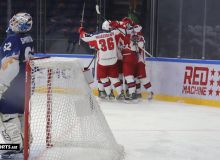 Maksim Ryjkov netted three times as Zvezda Chekhov recorded a 4-0 victory over HC Humo in Monday's Supreme Hockey League clash.
Maksim Ryjkov gave a two-goal lead for Moscow side in a span of three minutes in the first period at the Podmoskovye Ice Palace.
After the restart, Vladimir Peshekhanov and Maksim Ryjkov increased the advantage for Zvezda Chekhov as they gained a 3-1 lead in the quarterfinal series.
Humo

VHL Playoff Round of 1/4

16/03/2020, 20:30

Finished

Zvezda
Found mistake? Select it and send us (Ctrl + Enter)