Khumoyun Sultanov ends ITF M25 Nonthaburi as runner-up in Thailand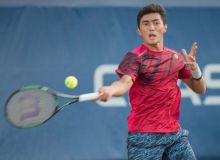 Khumoyun Sultanov faced Croatian player in the final at the ITF M25 Nonthaburi in Thailand.
The 21-year-old struggled with Croatian Matija Pecotic at the Lawn Tennis Association of Thailand on Sunday.
In three straight sets, Khumoyun Sultanov received a 1-6 6-3 2-6 defeat from Pecotic and finished his campaign as runner-up in Thailand.