Makhmud Murodov is going to please the fans with good news soon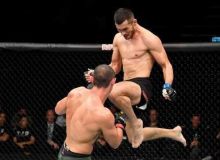 Murodov will soon have his next fight details revealed.
We reported that Uzbek fighter Zarrukh Adashev signed with UFC . It is known that Makhmud Muradov was the only Uzbek fighter who was fighting under this promotion so far. He had 2 fights and won both of them. He gave information about his next fight.
"Hello, I'm glad to hear the latest news. Quarantine measures are being eased all over the world and the borders for flights will be opened soon. In the meantime, I find free time after the trainings and walked with my little princess. I will soon make my fans happy with the good news, because now we are in talks with UFC. The next fight date will be announced in the coming days. Thank you all for your support. Take care of yourself and your loved ones, "he wrote on his Instagram page.
Found mistake? Select it and send us (Ctrl + Enter)