Shohjahon Ergashev: I am on the threshold of a big test!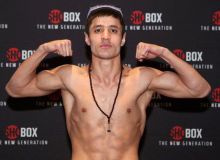 The period of responsibility has begun.
Our invincible professional boxer Shohjahon Ergashev contacted the internet portal sports.uz and announced that on September 9, his disciple Doston Bozorov will have his fourth fight in MMA.
-Doston was originally a freestyle wrestler. I brought it with me to Moscow eight months ago. It was here that he began to seriously engage in mixed martial arts at the Shohjahon_gym club, which belonged to me. I also taught him the powerful punching techniques typical of boxers. On September 9, the Irina Viner-Usmanova Gymnastics Palace in Moscow will host a grand tournament in memory of the famous martial artist Abdumanap Nurmagomedov. In the MMA competitions that will take place within the framework of this conference, professional fighters will rise to the octagon. It is true that this fight will be a big test not only for Doston, but also for myself and our club as a coach. Still, I believe in him. We caress him and call him "Samurai". He is as resilient, agile and fast as the samurai. He likes to fight with his mind, - said Shohjahon Ergashev.
To date, Doston Bozorov has won three fights in mixed martial arts. His next opponent was Gela Beridze from Russia. This athlete has one victory and one defeat. The fight between Bozorov and Beridze is organized in the middleweight division. In turn, Shohjahon Ergashev is preparing for the next fight in professional boxing. According to reports, he will go to the ring in the super tournament "Kings of Knockout", which will be held on September 21 in St. Petersburg. Shohjahon himself said that it does not matter who the opponent is, he is accustomed to prepare responsibly for each fight and will go to the ring only for victory. During his career, Shohjahon Ergashev won all 18 fights and defeated his opponents ahead of schedule in 16 matches. The Uzbek boxer also won a convincing victory over such famous boxers as Michael Fox (19-0) and Sonny Fredrickson (18-0), who were considered undefeated at that time in their weight categories.
Found mistake? Select it and send us (Ctrl + Enter)