Uzbek heavyweight MMA fighter is about to sign with new promotion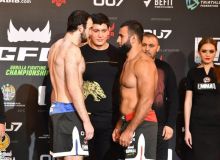 He lost his last fight in Tashkent.
Amin Ergashev (10-4), a 34-year-old Uzbek heavyweight MMA fighter, has long fought in promotions in Russia and Kazakhstan. He had his last fight at the "GFC 20" tournament in Tashkent against Sergey Alekseevich of Belarus, where he was unexpectedly defeated. We were interested in the future plans of uzbek fighter, known in the CIS countries by the nickname "Wolf", and what promotions he intends to cooperate with.
" Of course, I will continue my career. Still, I believe I can fight at a good level and show results. After a couple of fights with the ASA (Absolute Championship Akhmat) promotion, I can sign a contract. As you know, I've had fights in this promotion before. In particular, I participated in the first Grand Prix tournament, which is held every 4 years. Earlier, I defeated my Russian opponent and fought with the host, Adlan Ibragimov from Chechnya, on the threshold of the semifinals. I also attended training sessions in Grozny. So, I am no stranger to this promotion. In addition, the head of the ACA Mayrbek Khasiev and Abuzayid Vismuradov know me well. But my defeat in Tashkent slowed me down a bit. I mean the contract with the ACA. In this fight, too, the referee ruled a little early. I had a really strong hit. However, the same thing can happen to all fighters. It would only be possible to get out of this situation for a while. I was in the same situation. That is, I did not fall asleep completely. As a result of this defeat, the contract with the Chechen promoter was slightly extended. This is because athletes who lose their last fight usually do not immediately cooperate. However, as I mentioned above, my intentions are serious and I will try to record as positive results as possible in my future battles" he said to
Found mistake? Select it and send us (Ctrl + Enter)