Uzbek judokas back home after they finish second place at Marrakech Grand Prix 2019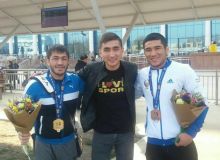 Uzbek judokas arrived in Tashkent after they finished Marrakech Grand Prix 2019 in a high note as they earned the second place with four medals in the tournament medal table.
They were welcomed at the Tashkent International Airport named after Islam Karimov by the officials from National Olympic Committee, a sea of fans and media.
At the Marrakech Grand Prix 2019 , six-time Grand Slam medallist Sharafuddin Lutfillaev of Uzbekistan defeated world number 38 Ukrainian Artem Lesiuk to win Grand Prix gold on day one in Marrakech. First-time IJF finalist Lesiuk forced the contest into golden score and his Uzbek rival surged into action with a huge koshi-guruma for a waza-ari score to hand him his twelfth Grand Prix medal and fourth of the golden variety.
Tashkent Grand Prix silver medallist Sardor Nurillaev ensured a golden double for the Uzbekistan men's team on day one. Nurillaev beat African Championships gold medallist Mohamed Abdelmawgoud from Egypt by ippon from an armbar in a contest where the Uzbek dominated from start to finish.
The first bronze medal was won by Tashkent Grand Prix winner Uzbek Khikmatillokh Turaev after Junior world champion Bilal Ciloglu of Turkey received his third shido and was disqualified in golden score in Repachage.
The second bronze medal for Uzbekistan was earned by former Asian Championships bronze medallist Mukhammadkarim Khurramov who beat Tel Aviv Grand Prix bronze medallist Grigori Minaskin from Estonia by ippon with a modified kata-guruma after only 51 seconds.