Uzbek judokas finish Zagreb Grand Prix with two medals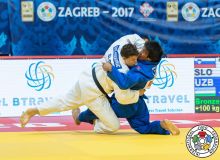 Uzbekistan's judokas finished their participation at the Zagreb Grand Prix with two medals on Sunday.
In the final day of the competition, Junior Asian Championships silver medallist Alisher Yusupov struggled with world number 64 Alen Tskhovrebov of Russia for a bronze medal.
Yusupov was awarded a bronze medal after Tskhovrebov picked up a knee injury during the contest and could no longer continue.
Marrakech Grand Prix winner Sharafuddin Lutfillaev from Uzbekistan also claimed a gold medal as he was on the verge of his first IJF gold medal – on his 37th attempt on the Grand Prix stage alone – with a waza-ari advantage before letting the world-class Uzbek back into the final and with 15 seconds remaining he was passive and was disqualified to his bitter disappointment.