Uzbek MMA fighter Ahliddin Mirzadavlatov has signed a contract with Russia's most prestigious promoter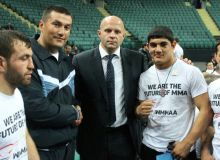 The date of his next fight has also been known.
Uzbek MMA fighter Ahliddin Mirzadavlatov became a client of the ACA (Absolute Championship Akhmat) promotion in Chechnya. He will make his debut in ACA on August 8. Mirzadavlatov had his last fight at the "GFC 20" tournament in Tashkent against Jafar Ismiev of Azerbaijan and won in the first round. In total, Ahliddin, who moves up to the octagon in the middleweight category (77.11 kg), has fought 9 fights during his career, winning 8 of them with one loss.
Found mistake? Select it and send us (Ctrl + Enter)