Uzbekistan's Sharafuddin Lutfillaev claim a silver medal at the World Judo Championships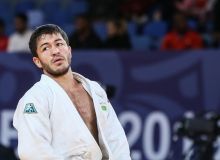 World number seven Sharafuddin Lutfillaev of Uzbekistan lost the final to the European Games winner Georgian Lukhumi Chkhvimiani, who was crowned the new world champion as he defeated for the first time.
Lutfillaev had 3-0 advantage in their head-to-head series before today but Chkhvimiani registered in the win column today on the biggest stage of his career and when it mattered the most.
The Georgian countered an uchi-mata for a waza-ari score with 51 seconds left and, as Lutfillaev had no choice but to go on the attack, Chkhvimiani was ready and loaded up the Uzbek onto his hip and over for ippon and -60kg gold.
In the semi-final, Sharafuddin Lutfillaev launched two-time Grand Prix winner Gusman Kyrgyzbayev from Kazakhstan with a uchi-mata for ippon to advance to the final. The Uzbek punched the air in delight having guaranteed the best result of his career.
Found mistake? Select it and send us (Ctrl + Enter)