Zarrukh Adashev's debut fight in UFC started unsuccessfully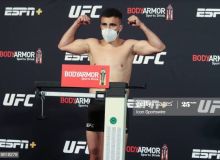 The second Uzbek in UFC made his debut.
UFC on ESPN 10 tournament was held in Las Vegas, Nevada, USA. Uzbek UFC fighter, who had his debut, fought against Tyson Nam and the fight ended with a quick knockout. In the first round, Adashev missed a strong punch and was knocked out within 32 seconds.
Found mistake? Select it and send us (Ctrl + Enter)