Interview with the head of the National Teams Department - Usmon Toshev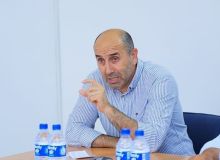 Creating an annual plan is not easy.
As you know, today UFA officially confirmed that Aziz Haydarov was replaced by Usmon Toshev. When we heard that a well-known football specialist had been appointed to a new position, we contacted him and received answers to various questions that interested us.
- First of all, congratulations on your appointment to a new position. I have a question: who offered you this accessory?
- Thank you for the congratulations. This position was offered to me by the leadership of the federation after long negotiations.
- Who will be in charge of Nurafshan? Do you run the club yourself or does someone else own the position?
- I will continue my activity only in the federation. In the club "Nurafshan" we performed very difficult tasks, did a lot of work. Management will pass into the hands of others.
- What was the first task set for you by the federation?
- I want the federation to continue the best traditions, to unite teams of all ages to work in a friendly way, to help coaches in the pursuit of their goals, to support them, to help them in their work. They trusted me with this position and approved my candidacy. I have to justify the trust.
- Is there an agreement between you and the federation on the position? In general, how do you work? Is it a contract or a term?
- I am a full-time employee of the federation.
- Is it your responsibility to appoint head coaches to the youth team?
- Of course.
- In your previous speech, you said, "We will unite the national teams of all ages in a common goal." Tell me, are the national teams of all ages moving now? For example, each coach has developed tactical schemes similar to his own style: someone in defensive style, and someone in offensive style. Do all coaches now follow the same system and style?
- No. Team tactics are tailored to the opponent's potential. Our goal is to work effectively in delivering players to the team. I am not familiar with the tactical structure of the national team. We meet with them, study them, and then draw up well-known schemes.
- Do you have a task to organize friendly matches of our national team?
- Yes, of course. With the international department, we need to work on this. There should be good games, good sparring. But here, too, consult with coaches. At what pace should the team be? Which team to play with is not an easy task to organize friendly matches. The national teams reach an agreement for friendly matches 1-1.5 years in advance. We will also make an invitation to the national teams a year in advance, and we will pay close attention to the organization of friendly matches during the FIFA days.
- Why didn't the Football Association of Uzbekistan announce your candidacy immediately after the election? Is there a problem?
- No. There was no problem. The reason is that I think a lot. This is not a joke. So before I accepted the offer, I looked around.
- What changes do you plan to make in the national team in the next year?
- I will not say anything about it now. Because first I have to meet and talk to the coaches. Creating an annual plan is not easy. I can say that the goal is to work in the same direction with all young communities.
Матнда хатолик топсангиз, ўша хатони белгилаб, бизга жўнатинг (Ctrl + Enter)