Uzbekistan's Sanjar Fayziev claims a final spot in 2019 Kazan Kremlin Cup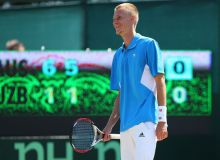 Uzbekistan's Sanjar Fayziev gained a final spot in men's singles in 2019 Kazan Kremlin Cup in Russia.
He earned a 7-5 6-0 win over Israeli Ben Patael in quarterfinals before he faced Latvian Martins Podzus in semifinals.
Fayziev claimed a 6-2 6-4 victory over Martins Podzus as he advanced to the 2019 Kazan Kremlin Cup finals.
Uzbekistan international will struggle with Russian Roman Safiullin for the tournament title at the Kazan Tennis Academy on Sunday.