Why did the member of the Uzbek national boxing team have to move to Russia?
He is proud of being born in Uzbekistan ...
There are many boxers who grew up in Uzbek boxing, achieved a number of successes, and later became Russian citizens. For example, Rinat Trishev, Hamlet Ilyasov, Panarin, Bunin such names can be continued for a long times. Yan Kulkov has a special place among them. He achieved good results during his career and was invited to the national team of Uzbekistan. Later he moved to Russia, where he also has a career. You can find out some information about this boxer, who is always proud to say that he was born in Uzbekistan.
- Greetings from Uzbekistan, where you were born and raised!
- First of all, I want to thank you for remembering me. To be honest, it was an unexpected and pleasant situation for me.
- Older boxing fans know that you were born in Uzbekistan. But it cannot be said that young people have information about it. Maybe we will hear about it from you?
- I was born in 1972 in Tashkent. I am always proud to say that I was born in Uzbekistan, wherever I am in, any city or country in the world.
- Who was the first gym you visited and who taught you the secrets of this sport?
- I started boxing when I was 11 years old. In fact, I really wanted to be a football player. Growing up without a father, my uncle decided to make me a boxer and took me to a boxing club when I was 10 years old. But they didn't accept me because I wasn't old enough. The reason was that at that time we were accepted into the boxing gym from the age of 11. So, at the age of 11 I started boxing in the boxing hall "Dinamo" under the guidance of Bakhtiyor Karimovich Tukhtaev and Fevzi Nurievich Osmanov. I am forever grateful to those people! I have achieved all my successes in sports and in life because of those people. I was engaged in boxing until I was 17 years old, and the highest result among teenagers and young people was the 2nd place in the weight category of 54 kg at the 1988 Championship of Uzbekistan in Kokand. After graduating from high school at the age of 17, due to my family circumstances, I was forced to give up boxing and got a job in a factory.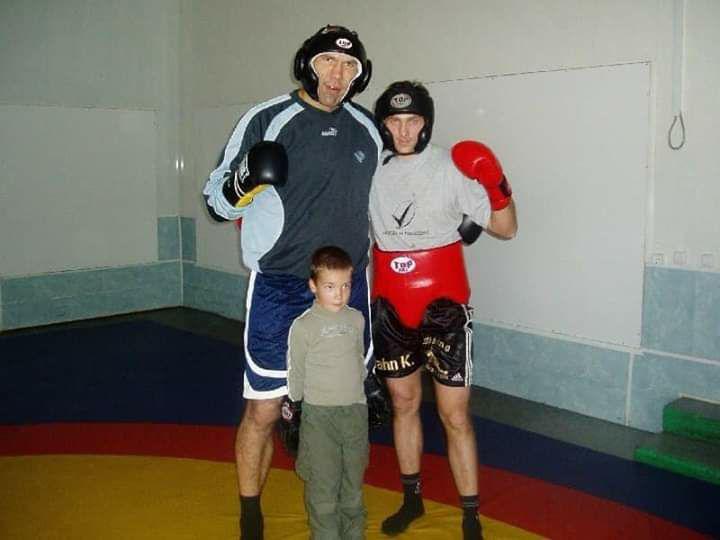 - Maybe there were other coaches who played an important role in your career?
- In 1990 I was called up for military service. Until 1992, I served in the former Soviet Union on the Tajik-Afghan border. It was a difficult time for the Soviet Union. After military service, I decided to box again. In 1993 I met Valentin Fedorovich Zelenin. Our cooperation with that coach did not last long. Because Valentin Fedorovich moved to Kaliningrad, Russia. After that I continued to train under Murod Salievich Turdiev (unfortunately, he is no longer with us) and I achieved all my results under the guidance of that coach.
- What made you move to Russia?
- The reason why I moved to Russia was that at that time professional boxing in Russia was much more advanced than Uzbekistan. My main goal was to test my strength in a professional way.
- You have participated in a number of tournaments among adults and were invited to the national team of Uzbekistan. What were the results?
- The silver medal of the championship of Uzbekistan in the weight category of 71 kg (if I'm not mistaken in 1995), the bronze medal in the weight category of 75 kg in 1996. In 1997, I won Uzbekistan Cup, the winner of the international tournament of class "A" in Indonesia. Then, in 1998, I moved to Ekaterinburg, Russia.
- How was your career in Russia?
- I won several international tournaments in Russia. In 1998, in the memorial tournament of the former Hero of the Union, Marshal GK Zhukov, we fought with Sergey Mikhailov in the weight category -81 kg. After a very difficult, contentious, uncompromising fight, the judges gave me the victory. I started my career in professional boxing in 1999, in February 2000 I became the champion of Russia among professional boxers, in October I became the world champion in the weight category of 90 kg in the RAVA version.
- Was your main rival Sergey Mikhailov the number one in the national team of Uzbekistan?
- I competed with Dilshod Yorbekov to become the number one boxer in the national team of Uzbekistan. Because at that time I was working in the weight category -75 kg.
- You were called to the Russian national team. Was there a serious competition?
- There was no opportunity to compete with anyone in the Russian national team. When I moved to Russia in 1998, I lost my first fight to Alexander Lebziak at the 1999 championship in Chelyabinsk, and then switched to professional boxing.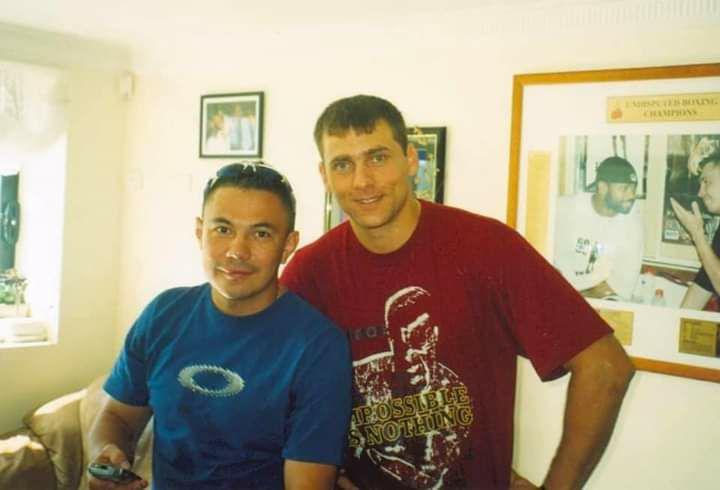 - Who were the leaders of the national team of Uzbekistan in your time and what were their strong points?
- When I was a member of the national team of Uzbekistan, a very strong, friendly team was formed under the leadership of head coach Vladimir Nikolaevich Shin. The coaching staff was also very friendly. The atmosphere in the national team was excellent. I would like to take this opportunity to thank Vladimir Nikolaevich for all this, for supporting us not only as athletes, but also for helping us to find our place in society ... I do not want to single out any boxer and hurt someone's heart. The national team consisted of the strongest boxers in Uzbekistan.
- You have lost three times in professional boxing ... What was the reason for these failures?
- As for my defeats in professional boxing, I can say that my first defeat put an end to my entire career. When I had a good rating, two belts, my managers sent me to Germany to fight Torsten May, the Olympic and world champion among amateur boxers and the European champion among professionals. But Torsten was not in good sports form at the time, I have had a significant advantage in the fight but the judges found him the winner. Fans who came to the boxing night in Hanover whistled to protest the unfairness of the referees. They threw all sorts of things into the ring. After this defeat, depression ensued. Besides, I couldn't find a good team to work with in the future. Did you have sparring fights with Nikolay Valuev and David Haye in the past ...? - It was very difficult for me to be a sparring opponent for David Haye.He was a very strong boxer. David had just his transition to professional boxing at that time. But I loved being a sparring opponent. We worked with him for three weeks in London. The same can be said about German boxer Marco Hook. I was also a sparring competitor when he was just entering professional boxing. He impressed me as a very fast, distance boxer. As for Nikolay Valuev, I was his sparring partner for three years and helped him. At that time, I was a boxer in preparation for Valuev for his fight with Ruslan Chagaev, which was scheduled to take place in Finland, and then postponed to another date, and I was his opponent in the control fights. Then, I also worked with him for a month while preparing for the fight against John Ruiz. I also helped as a sparring opponent before his clash with Evander Holyfield.
- Maybe you have worked with other celebrities as well ... I have more information about your career as a sparring competitor. Can you remember?
- By the way, I also helped Rudik May, Torsten May's brother. Although I officially retaired from boxing, amateur boxers were also invited as sparring opponents. Sultan Ibragimov, Alexander Alexeev, Evgeny Makarenko, Roman Romanchuk ... Most of all, I was a sparring opponent of Alexander Povetkin, Nikolay Dmitrievich Khromov, before a competition somewhat, he even invited me to Vladivostok to help Povetkin.
- Are you coaching now?
- I am not a coach at the moment. Being in the security service, I don't have time to take coaching seriously. Since 2010 I have been training only in a fitness boxing club. But in the future I intend to open a private boxing hall and train amateur and professional boxers.
- Which of the contemporary Uzbek boxers do you have friendly relations with and with whom do you often communicate?
- I have maintained friendly relations with many. Igor Bunin currently lives in Moscow. I would like to take this opportunity to express my gratitude to him as well. Because he helps Uzbek boxers as much as possible. Again, Zufar Suleymanov, we have been dear since the day we first met. When I was in Tashkent, he helped me in every way. We talk to Timur Ibragimov on the phone. The last time I talked to Ruslan Chagaev was on Skype in 2011. We talk on the phone with Utkirbek Khaydarov. I keep in touch with Rixsiboy Shomirzaev on Facebook. I can mention Alisher Rakhimov, Ikrom Berdiev, Dilshod Yorbekov, Erik Abdurahmanov. We keep in touch with Shuhrat Hasanov, one of the older generation. We also have frequent telephone conversations with the next generation Dmitry Seredov and Alexander Komarov.
- You also coached a young Uzbek professional boxer Ravshanbek Makhammatjanov for some time. What do you think about him?
- As for Ravshanbek Makhammatjanov, he is a very young, talented boxer with a bright future. Only he should be part of a team that works with all-round intelligence and caution. When Zufar Suleymanov called me and asked me to coach Ravshan, I told him that I was too busy with my work and that I would not have time to train with him, and I invited a coach in St. Petersburg, Nikolay Vasilevich Muziko. He is a very good specialist, you know him well, he is also from Uzbekistan. During his career, he trained many masters of sports, including the world champion among youth Azamat Abduhakimov. Basically, he worked with Ravshan, and I was an assistant coach. In the future, we want to open our own boxing school and work together with Nikolay Muziko.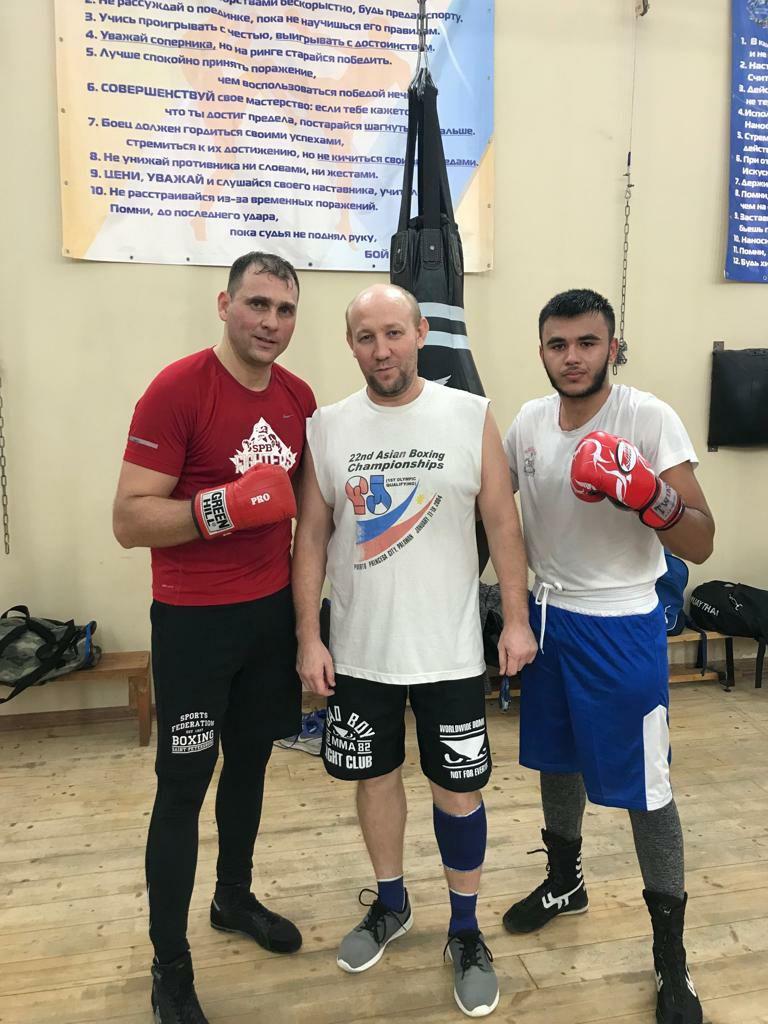 - You may also miss Uzbek food. Do you also cook Uzbek national dishes at home?
- To be honest, I really miss Uzbek food. When I miss you so much, I ask Nikolay Muziko to cook the soup. She is unique in this regard ... I also know how to cook soup. But lately I rarely have time.
- At the end of the conversation ... what do you say?
- In conclusion, I would like to thank all the coaches who helped me to reach this level, first of all, my first coaches Bakhtiyor Karimovich Tukhtaev, Fevzi Nurievich Osmanov, Valentin Fedorovich Zelenin, Murad Salievich Turdiev. I would like to express my special gratitude to Vladimir Nikolayevich for not only my achievements in sports, but also for helping me in overcoming many difficulties and difficulties in life. I would also like to thank Stepan Stepanovich Belov for going to Ekaterinburg and having two belts in professional boxing with the help of this man. I wish the people of Uzbekistan peace, prosperity, health, success and success in all their endeavors!
Матнда хатолик топсангиз, ўша хатони белгилаб, бизга жўнатинг (Ctrl + Enter)