After Murodjon Akhmadaliev, Who Will Be Next World Champion From Uzbekistan?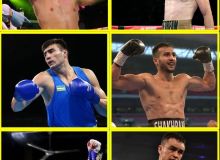 A number of Uzbek boxers have a good chance to win world title.
Among the professional fighters of Uzbekistan, there are not many who have won world championship belts in one of four directions. In particular, the first such title was won by Artur Grigoryan, who fought in the lightweight category. That is, he will become the holder of the WBO championship belt in this weight. Later, Ruslan Chagaev became the WBA heavyweight champion, and as you know, Murodjon Akhmadaliev won the IBF and WBA Super championships in the super bantamweight division. However, Oleg Maskaev became a WBC champion but he was fighting on behalf of Russia at the time.
Today there are some Uzbek fighters who are close to such a result. In this regard, we were interested in the views of Uzbek professional boxing experts on three Uzbek boxers, who are most likely to become a world champion after Murodjon Akhmadaliev.
Nabijon Ismonov - A coach and an official of the Professional Boxing Federation of Uzbekistan
- In fact, there are many such boxers. But considering that it is in the near future, I can say that the first one is Kudratillo Abdukakhorov. True, there are very strong competitors in his weight class. Nevertheless, Abdukakhorov is a very strong and disciplined boxer. The promotion will also be renewed. If his promoters work well, he can reach that level.
Undoubtedly, Bektemir Melikuziev has a great opportunity in this regard. He can fight any opponent as much as he wants and it is not surprising that we will soon see him in the championship position as well. Israil Madrimov also currently leads the ranking. He also has a good chance. Plus, I can say that working with Eddie Hearn creates more opportunities for him. In general, Madrimov's potential is enough. If you ask the fourth, I would say Olimjon Nazarov. Of course, this is my personal opinion!
Zufar Sulaymanov - Chairman of the Board of Coaches of the Professional Boxing Federation of Uzbekistan
- It is very difficult to say three. Because such boxers can be found as much as they want. Each has mature skills and I would like and hope that all of them will reach the level of champions. I can say with confidence that Bektemir Melikuziev will soon become a champion. The reason is that he is in the top 15 in the WBA rankings. He is also working with Oscar De La Hoya, a shark in the world of professional boxing. His level is known to all. He is an innate talent!
The second is Olimjon Nazarov. Of course, I'm not saying this because it's my student. Nazarov is currently ranked 5th in the WBO and has been in the professional boxing for many years. I mean, the experience is high. In addition, he will never lag behind his rivals.
And finally, Israil Madrimov is my last choice. Although he had some difficulty in the fight in Tashkent, he had an ideal battle, given that he is in a post-injury condition and the opponent's physical condition, and he can show an even higher level.
Of course, Kudratillo Abdukakhorov, Bakhodir Jalolov, Shakhram Giyasov and Shohjahon Ergashev also have a chance and I believe in all of them. However, I think they will take some time. I say this in terms of the situation of their promotional company and the fact that the promoters of the champions in the weight category take into account who it is financial to organize a fight with.
Muhammad Abdullaev - Deputy Chairman of the Professional Boxing Federation of Uzbekistan
- Kudratillo Abdukakhorov is very close to that. I think he can win the championship title. An educated boxer who never stops working on himself. Confidence in Bektemir Melikuziev is also high. Promoters and managers also have great confidence in him.
Attempts to organize a fight with Sergey Kovalev are an example of this, and I would also mention Shakhram Giyasov.
Alisher Rakhimov - A former boxer and coach
- Bakhodir Jalolov, Israil Madrimov and Shakhram Giyasov. Of course this is my personal opinion. I think there are a lot of Uzbek boxers who can achieve such results.
Azamat Muradov - A journalist
- Hasanboy Dusmatov - Because the competition in the weight category is relatively low, this process can be easy.
Israil Madrimov - First, he stands closest to the championship. Because he is now a mandatory contender, but due to a shoulder injury, the fact that he has not been in sports form recently, may delay the duration of the championship fight. Regular champion Erislandy Lara is expected to go up, and if he leaves his belt vacant, Israil's chances of winning the title will be good. But first, after the injury, he will have to get back into top sports form, as he did a few years ago.
I have to add one more thing, when professional boxing became a business, four influential organizations that offer world championship belts (especially WBC and WBA) started creating various additional belts and 3-4 champions appeared in one direction in one weight class. Other organizations, in turn, do not recognize such "walks" and one champion in each weight class is recognized as a true champion.
If you ask about a real championship belt, there's a lot to fight for that. Because super-champion Charlo is a client of a completely different competitive promotion company, and usually they do not organize boxing nights together with Matchroom, which is considered a co-promotion company of Israil Madrimov (you say, business is like that, no one wants to recognize a competitor). That is, it is almost impossible to organize this fight even if Israil and his team want it.
Bektemir Melikuziev - I was looking for a boxer who could win the championship in third place. But I came to the conclusion that most of them are still a long way off. I mean, it's almost impossible for us to have a fourth champion in the next year. This is due, firstly, to the problems associated with organizing those contenders and championship fights. On the other hand, compared to the level of the rest of Uzbek boxers, their opponents are very serious and the competition is very strong.
Therefore, in terms of talent and the attention of promoters abroad, I considered Bektemir Melikuziev the closest to this name. Today, the name of Bektemir Melikuziev is most often mentioned in foreign media. They talked about boxer - "bully" I think that these factors will motivate him to fight for the championship faster.
About not choosing others. Of course, we have other athletes who are contenders for the championship and come close in the rankings. For example, Kudratillo Abdukakhorov. But recent history has shown that no matter how hard Kudratillo Abdukakhorov tries, without good managers and a promotional company, everything will depend on money. I personally don't believe he can achieve any results with a promotional company that hasn't even been able to resolve a single visa in his fight for the interim championship belt. Secondly, I think that defeating a fighter like Errol Spence can only be achieved by Crawford or Jaron 'Boots' Ennis, who knocked out Lipinets.
The same goes for Shohjahon Ergashev. As far as I know the IBF ordered a fight between Liam Paro and Shohjahon Ergashev, who ranked 3rd and 4th in the rankings for the vacant mandatory challenger position, when Salita promoter company tried to organize the fight, for some reason Shohjahon worsened his relationship with them at the most critical stage with Ergashev missing his first and last chance to come closest to the championship belt. It was possible to cancel the partnership with Salita after having missed that fight and become a mandatory challenger. Of course this is my personal opinion.
Another boxer is Shakhram Giyasov. His promoters had said they were in no hurry to fight for the championship. For this reason, Shakhram is currently working on himself, first of all, gaining experience in rating battles. The real chance for a championship fight could be in it in the second half of about 2022. Even then, the level of competition in weight is important, depending on who is fighting in that weight.
Without forgetting the ratings, I would also like to mention Olim Nazarov, who competes in the super flyweight. I believe that an experienced boxer will reach the level of championship belt at a low weight class, which can be achieved with a less powerful promotional company, but I think it will be a little harder to win battles against the Japanese, the king of such weights. For a 36-year-old boxer, I think it's a big deal to be in the ring as a contender for the world championship belt.
Матнда хатолик топсангиз, ўша хатони белгилаб, бизга жўнатинг (Ctrl + Enter)