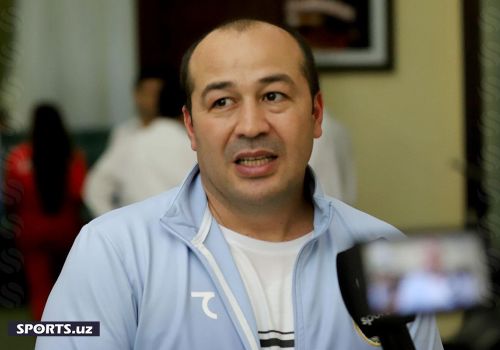 Tulkin Kilichev: Boxers have more patriotism than footballers
SPORTS.uz interviewed the coach of the national boxing team of Uzbekistan - Tulkin Kilichev. During the conversation, he expressed the difference between boxing and football in a wonderful way.
- Tell me, how different is the attention to football and boxing? Why is the difference between achievements in these sports so great?
- I think there is a difference. However, football is a team sport. In boxing, each athlete is responsible for himself in the ring. Being patriotic, he moves in the ring with great enthusiasm. He feels that there is no way back. This is not possible in football. It is difficult for 11 different people to pursue the same goal.
- Does patriotism play a big role in football?
- It is very important in any sport. In my opinion, not all footballers who think differently have the same level of patriotism. Therefore, the result depends on it.
- As a coach, tell us, what should we pay attention to in order to develop football and boxing?
- In the late 90's, a Japanese boxing coach visited Uzbekistan. He lived here for 2 years and studied boxing. Do you know what happened next? If I'm not mistaken, his student won a gold medal at the London Olympics. This is the first Olympic gold medal in the history of Japanese boxing. I think in football, too, it is necessary to learn the style of work of those who are stronger than us. For example, it is necessary to send 10 young players a year to the top five clubs to improve their skills. In order for 50 talented people to work abroad, it is necessary to send coaches and create opportunities for them to study. Then, in 5-6 years, we will have at least 50 players who have the breath of modern football. This, in turn, will lead to the growth of Uzbek football. Imagine a Japanese specialist winning an Olympic medal after two years of training. These young people get a great education in 5-6 years. They also need financial support. Later, at least five of them could become world-class players. Those who have not been able to stay abroad, at least in the domestic championship, will play better. We will benefit in the end anyway. These are just my thoughts. In fact, many people understand football better than I do.
- Tell me, why are the fights with Kazakh boxers so interesting?
- It's natural. This is due to the fact that the two leading boxing countries will clash in the ring. Everyone is interested in the new giants who have their own boxing school. In fact, today's members of the "golden generation" have trained in Kazakhstan. In the past, we only had the Jackson Memorial Tournament. Only one tournament a year! Our neighbors organize at least 12 tournaments a year, and together with the guys we have tried to participate in all of them for 12 months.
A few years ago, they were ahead of us. Now we are a little bit ahead. Nevertheless, there is no animosity in the middle. When they leave the ring, the guys treat each other like brothers. I am well acquainted with their coaches. You know, many young men born in Uzbekistan, who grew up in Uzbek boxing school, have conquered the world arenas under the flag of Kazakhstan. There are even Olympic champions. At one time, we held training camps in Kazakhstan. They also frequently visit Tashkent. Overall, my contacts are excellent.
- When your Uzbek boxers fight overseas as a professional boxer, you are often with them. What does this have to do with anything?
- They're still young. I always try to reach out before the fight to give spiritual superiority. Sometimes they cry when they see me. It is bad to miss the homeland, it hurts athletes. If you are away from home, in a foreign land, you will immediately understand what it is like to miss. Tears well up in your eyes when they bring your baby's cradle. Imagine how you would feel if your coach came to you in difficult times!
I just try to reach out to the guys during the fight to support. Unfortunately, I was not able to stay close to Murodjon's championship fight. Even so, I sat at home and watched. When the referee handed the microphone to the judges to determine the winner, my heart stopped. If I'm not mistaken, the first referee noted Roman's victory. The next judge ruled that Akhmadaliev was stronger. I did not dare to hear the opinion of the 3 judges. I left the room, but my ears were on the TV. Suddenly, there was a commotion in the house. Honestly, it's hard to say how I felt.
You can watch the full video of the interview on the official page of SPORTS.uz on YouTube.
SPORTS.uz'ни Youtube'да томоша қилинг!