Olympic's goal is a trip to Paris-2024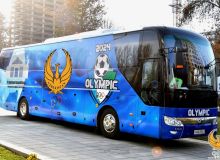 As you know, the Olympic football club was created under the NOC to win a ticket to the Olympic Games-2024 in Paris.
Yesterday, the management of the NOC and AFU, representatives of the club discussed the strategy of preparing the team.
The meeting was attended by the head of the NOC Rustam Shaabdurakhmanov and his first deputy, First Vice-President of AFU Ravshan Irmatov, director of the Olympic club Alisher Polatov, the coaching staff of the team and the players.
Olympic finished the Pro-League season as expected. Currently, the team is preparing for the match for a ticket to the Super League. The game will take place on December 2. It is worth noting that this club brings together representatives of our youth national team, who at international competitions act as players of the youth national team of Uzbekistan.
At the beginning of the meeting, Ravshan Irmatov spoke in detail about the results of the season and plans for the future. After that, Timur Kapadze expressed his opinion on the upcoming matches.
"In our last tournament we played with young people from Saudi Arabia, Kuwait, Bangladesh. Although many of them were 1-2 years older than us, we were not inferior to them either physically or tactically. We express our gratitude to our Government for creating our team, as well as for giving us the opportunity to prove ourselves. Our goal is to get a ticket to the Super League. The more we play with strong teams, the more we gain the necessary competitive experience"" said the head coach of the team.
In conclusion , the Chairman of the NOC noted:
"The licensed tournament in Thailand has become a great lesson for us. Guys, if you follow the instructions that your coaches with iron discipline are giving you now, we will definitely achieve our goals. The head of our state creates all conditions for this. We're just asking you to move forward""
Also in the afternoon, a meeting was held with the Basketball Federation of Uzbekistan on this topic. It was attended by athletes led by the Secretary General of the Federation Ravshan Ganiev
During the conversation, Ravshan Ganiev told about the team's plans for the coming year, international competitions, organized training camps. According to the expert, the main thing is that the issue of the material base in which the national team will be engaged has been resolved. During the meeting, the head of the NOC talked with the athletes and gave his additional advice.
Матнда хатолик топсангиз, ўша хатони белгилаб, бизга жўнатинг (Ctrl + Enter)