"The President personally motivated me" - an interview with Tursunoy Rakhimova, who was dubiously defeated in "Tokyo 2020"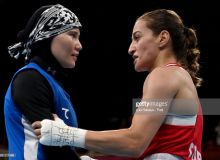 Thoughts of a talented boxer on the questionable defeat and other topics.
SPORTS.uz will continue the interviews. For this time we talk to Tursunoy Rakhimova, a participant of the Tokyo Olympics in boxing, champion of Uzbekistan, winner and prize-winner of several international competitions.
Our talented athlete commented on the injustices of the Tokyo Olympics, the motivation given by the President, the reason for wearing the hijab, the superiority of the family over boxing.
Hello! First of all, thank you for agreeing to answer my questions. Be the first to share the excitement of the Tokyo Olympics ...
- Hello. Speaking of the Olympics, I didn't win a medal, but I'm not upset. After all, upon our return to Uzbekistan, President Shavkat Mirziyoev awarded me, and our people greeted me with warm words and a warm face. I was very excited during the debate. In the first fight I won and in the second I lost to my opponent with the score of 2:3. I had to win the fight. But my opponent's hand went up and he later reached the final. I was a little stressed out. But now they are behind me and I am preparing for the World Boxing Championships.
Do you think you can't reach a quarter-final for robbery?
- It is true that there are a lot of mistakes in boxing. In sports such as rowing and running, such challenges are almost non-existent. In boxing, the decision of the judges plays a big role. I have almost learned about such cases. In addition, my defeat in the Olympics made a difference to me, I learned who is a friend and who is an enemy. Now I'm moving on.
- Who is the person who is helping you the most today? After all, you have managed to distinguish between friend and foe.
- Only my parents. No one can be their friend except them. When I didn't win the Olympics, I was very upset. You know, today I realized it wasn't stupid and I thanked everyone.
- Tell us about the parents of the famous boxer Tursunoy Rakhimova?
- My parents are the only ones in the world, I love them very much. They are also the cause of my boxing career. If I feed and drink my parents well, dress them well and they live well, that's enough for me. I try not to say I don't have a son.
- Which coach has a unique role to play in reaching today's level? There is a saying among our people that "a teacher is as great as a father" ...
- My first coach was Qahhor Umarov. After that, I worked with Dilmurod Azizovich and now I work under the head coach of the national team Elshod Rasulov.
- As our fans know, you wore a hijab after your first interview with Sports.uz, have there been any other changes that we don't know about?
- I learned to read the Arabic alphabet, the Koran. Praise be to Allah, I am now studying Tafsir. After reciting the verses of the hijab, I could not remain silent and beat.
-You said that if I became an Olympic champion, I would finish my career. Is your decision still valid?
- I said that I will finish after the Olympics. You know, I decided to return after the President himself wore the medal "Jasorat" and said, "Tursunoy, do not stop, of course, you must be a champion!" It gave me a lot of motivation.
- What was the first thing you thought about when you came back, the Olympics or the World Championships?
- I thought about the World Championships. I still don't know about the next Olympics.
- If you thought of yourself as a girl, not an athlete, what would you change today?
- It is not in my power to change anything. I have to act for my parents. I don't care if I like it, I'm tired or not. I have to earn money, work and keep moving. Because I am the caretaker of my parents. They are old and my goal is to create good conditions for them. In a sense, I have achieved this goal.
- It is well known that women's sports in Uzbekistan lag behind foreign countries. Do you think there is something wrong with the system? Because there are people in our nation who want a woman to sit at home and do housework.
- You are right, we are a little behind. We were the first swallows in women's boxing. I think in another 5-6 years we will be ahead of men. I see that we have very strong girls. Also, people who have seen our victories express warm thoughts and are not afraid to give their daughters to sports.
-You need to be an amateur boxer to compete in the Olympics and the World Championships. Can we see you in professional boxing?
- There were offers. But I can't say anything in advance. Because as I said above, I wanted to finish my career after the Olympics. I came back after our president said, "Go on, girl." I do not know what will happen tomorrow. When the time comes, everyone will know.
- There are rumors that it will take money and acquaintances to enter the sport. How do you feel about that?
- I did not spend money to get into sports. Expenses for Olympic sports are paid by the Olympic Committee. I joined boxing from another sport. In non-Olympic sports, however, your money is "slipped". They also get paid to weigh themselves. Put it in your house, you don't have any goods. In boxing, the competitions are free and the debates are organized.
- How right is it for parents to give their daughter to boxing? In boxing, muscles develop, and this seems a bit unusual for girls. I wanted to know what you think about it.
- If I am a girl in the future, I will not give up boxing! Maybe if he is very interested, I can think. Because it can pass from land to land. That's right, muscles develop when you exercise. But thin girls like me don't know that. Sometimes a haircut is like a boy, but it also depends on the upbringing at home.
- At the end of the Olympics, the athletes who successfully participated were awarded. There were rumors among the fans that it was not necessary to spend so much. How do you feel about that?
- It's easy to tell a spectator. They don't know how hard it is to come to the ring and fight. If it is easy, let them come and prepare in the hall. They can't achieve anything, they just know how to speak. They should be ignored.
- What is your biggest win in boxing?
- Thank God, I took part in international competitions. But I can't say that this is the biggest victory in boxing. Because I am happy to compete in the Asian Games and the Olympics. For example, not everyone can do it.
- Which way do you go if you have to choose between marriage or boxing?
- If I have such a choice, I will choose life. I can do that when I meet someone who can make me happy. Now I continue my boxing career.
-Thank you for your answers, Tursunoy. I wish you success in your work. God willing, you will be a guest of our site even when you are a world champion.
- Thank you. God willing.
Матнда хатолик топсангиз, ўша хатони белгилаб, бизга жўнатинг (Ctrl + Enter)