Interview with Zayniddin Tojiev on the selection of children for "Odil Junior", the lack of money from parents, the formation of a large club in the future and other topics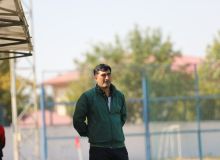 We plan to hire a foreign specialist as soon as possible.
Yesterday we worked on the broadcast of the championship of Uzbekistan among 14-year-olds. Taking the opportunity, we interviewed the head coach of "Odil Junior" team Zayniddin Tojiev.
- Everyone is talking about the problems in children's football, but nothing has changed. Today, I was upset to see the epic of the youth of the club "Sogdiana" on the field. In general, how is the work in this area?
- You're right. We have everything different. This is a personal project. Therefore, there are no financial problems. Odil (Akhmedov) provides the children with everything they need. The task of our coaches is to make the most of these opportunities. Our leader completely renovated the square in Beruni. We are moving in the way we have chosen. Akhmedov has been paying close attention to the club since this year. We plan to hire a foreign specialist as soon as possible. We need a specialist who is responsible for physical training. The point is that a team-level coach can determine what loads a 14-year-old can carry, which will be of great benefit in the future. We intend to benefit our football through the skills we learn from it.
- You spoke about "Odil Junior". Tell me, is this a project launched for the development of our football, or a business plan?
- In the beginning, it was a good thing that Odil did to help Uzbek football. And now, this community has begun to receive serious attention. The children grew up. Now our agents are working with them. However, we have not yet trained a single player to sell. Let them grow up and become good footballers. Let him benefit for the NT. That is our main goal. The rest are decisions made based on the situation.
- Who invited Zayniddin Tojiev to "Odil Junior"?
- When I was a footballer, Bakhtiyor Ashurmatov recommended me to study as a coach. I denied it. My son played in the Lokomotiv youth team. When he saw me going to the stadium to watch him play, he said, "Sunnatulla Ruziev, come and help me at Lokomotiv." To become a coach, I studied at the Institute of Physical Education. I studied for C and B licenses. I couldn't work with Lokomotiv when everything was as it should be. I had to leave when some people got in the way. Later I worked in JFL for a while. Shortly afterward, I received an offer from Odil Junior.
- There is a saying that "Odil Junior" is the fair team. How do you explain that?
- It's true. I trained children born in 2006, 2007, and 2008. For 5 years, I have not seen a single child taken to the community for someone's "order". Because we are a personal project, our working principles are different. I don't know what it's like in other academies, but we always have strong kids.
- How much do people who want to have a child in "Odil Junior" have to pay per month?
- We do not take money from our learners. Enough capacity. In the past, we used to admit all children to the academy. Now the club's policy has changed. Now we select the children. Odil is paying us. He demands results from us. Here are all the conditions. We do not demand money from parents. Our main task is to bring good players to the academy. Last year, our players of all ages reached the final of the championship. Some are victorious, while others are defeated. The result is not important, but we are glad that in a short time we have managed to create a strong academy. This is a big win for us. We fought on an equal footing with Pakhtakor, Nasaf and Lokomotiv.
- These guys will become big players in 3-4 years. Is there a professional club plan?
- This is not a question we are asked. Odil is working with breeders. He is responsible for the material side of the project. Therefore, the last word must be said by Odil. If he wants to take the academy to a higher level, we will not run away.
Матнда хатолик топсангиз, ўша хатони белгилаб, бизга жўнатинг (Ctrl + Enter)